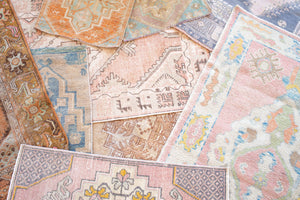 Answers to our most commonly asked questions.
Our vintage collection is made up of rugs that were handmade around the world and are up to decades of years old. We work with vendors around the world to source the highest quality rugs that are durable + beautiful in their age.

Our modern collection are made up of new production rugs, meaning they were hand-knotted in India in the last year and have not been owned by anyone since they were made.
Our new production section is made up of three designs, "James", "Whaley" and "Blythe" which we carefully + intentionally designed that are exclusive to our brand. A few times a year, we open a Pre-Order window where you can purchase any of these designs in any size, to make it a perfect fit for your space! When the pre-order window is closed, we usually have extra ready-to-ship new production rugs in stock. If a listing is not labeled "Pre-Order", then it is in stock and ready to ship to you!
We say buy one of each! But in all seriousness, it depends on what you want! Our vintage rugs have lived a life before they arrive to us, and that shows through in their character with their faded colors and a generally lower pile. We love how they can make a home feel welcoming + lived-in the second they arrive to your home! They are very forgiving in wear and tear and great options for families with children + pets!
- We love our new production collection because these rugs are not only gorgeous and SO soft, but unlike our vintage rugs, YOU are the first owner of these rugs and get to give them their own unique story + purpose from the start. Because of their impeccable quality + durability, they will last for decades to come just like our (already) vintage pieces. We love thinking that these will be passed down through generations to come!
The majority of our rugs are 100% wool. Should a product (such as a kilim) have cotton or another material we will specify it within the product listing.
Currently all of our products are handmade in Turkey and India.
We recommend vacuuming any low pile rug as needed on a floor setting (no brush roll) and spot cleaning (as needed and as quickly as possible) by gently blotting with warm water and a mild dish soap or baby soap that is clear in color. If you have a major stain or spill that does not respond to the above methods, we recommend contacting a local carpet cleaner/repair shop to assist you and make sure they are experienced in cleaning oriental rugs!
Occasional shedding is completely normal since the rugs are made from wool fibers. Never pull or tug at any loose pieces, simply trim them with scissors if needed.
We'd recommend storing your rug by rolling it tighty with the bottom rolled to the outside, then stored in cool, dry place to prevent damage.
Absolutely! We want you to protect your rug as much as possible and the rug pad will help to do this while increasing the life of your rug. A rug pad will not only help the rug to stay in place, but it protects the wool and consistency of your rug. We prefer the felt, rubber, or natural fiber rug pads and have several rug pad recommendations linked here!
All of our items are handmade and vintage in character. Please note that any inconsistencies or imperfections within the colors, patterns or product are what makes these items so unique. They are one of a kind and oh so special! These variations within our vintage rugs and pillow covers are not considered defects.
Of course! We do our best to photograph our products in natural lighting to depict the best representation of their true colors and condition. Keep in mind that there will be slight variations in these colors between screens (i.e. phone, laptop, tablet, etc.) If you would like additional pictures or have specific questions please send us an email at hello@cordandcotton.com!
Currently we do not have a storefront, but we are happy to schedule appointments for clients in Charleston, SC or nearby to view/try rugs "on approval" for a short period of time. Please reach out to hello@cordandcotton.com if you wish to schedule an in person appointment or rug approval.
Still have questions?
Please email us at hello@cordandcotton.com. We'd be happy to help.